Join us for Puppy Play and CPR Practice
Saturday August 4th 2018!
CPR:
Learn compression only CPR and how to use a defibrillator.
WestCoast CPR instructors and state of the art CPR training equipment will be available for the community.  Practice CPR and learn how to save a life. Certifications are not included. This is a casual family friendly event.
For questions please call WestCoast CPR Training staff (206) 629-5295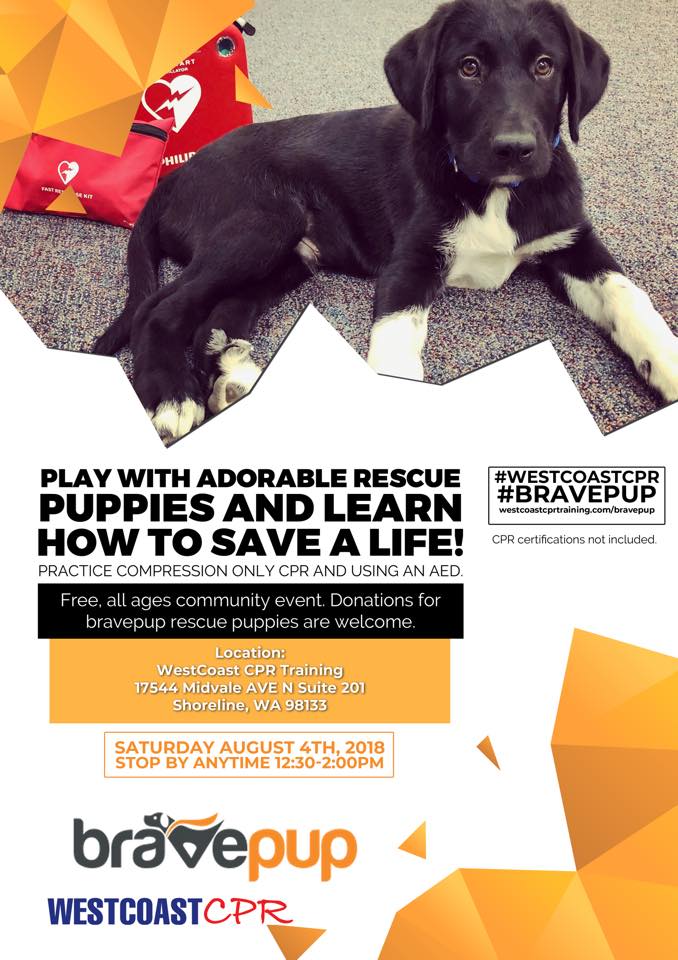 About Bravepup
Mission:
To improve health and well-being through positive human-animal interaction.
Puppy Delivery Program:
Bravepup brings adoptable rescue puppies to businesses and organizations for employee health and wellness. We provide a fun and innovative solution for corporate wellness programs to relieve stress, boost morale and contribute to a good cause. Donations from our Puppy Delivery Program help us rescue and transport puppies (and moms) from overcrowded, high-kill shelters in the South.
Rescue Program:
Spaying/neutering is less common of a practice in the American South, leading to pet overpopulation and overcrowding at animal shelters. It's not uncommon for a litter of puppies to be abandoned on the side of the road or euthanized due to shelter overcrowding and risk of disease transmission.
We rescue puppies from high-kill shelters in rural Georgia, provide proper veterinary care and treatment and transport them on Bravepup Freedom Flight to Seattle. Once in Seattle, our puppies live in volunteer foster homes and receive some much-needed love and socialization through our Puppy Delivery Program before finding forever homes.
Our average rescue cost per puppy: $884.
More info at bravepup.org